Local business since 1998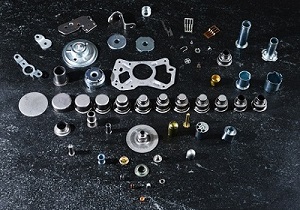 Family owned and privately held since its founding, United Manufacturing has continually striven to provide exceptional value to customers and employees. Our founding philosophy was to unite everybody in the manufacturing process - customers, suppliers, and team members - to achieve a final product which we could all be proud of.
Today, United is still owned and operated by founder Randy Bezile. We have been located at our curent facility, 4150 Sunnyside Drive, since 2001. Our business has grown into a full team of seasoned personnel, many of whom have over thirty years' experience in manufacturing and deep-draw metal stamping.
Our business is component parts
Since United's inception, we have specialized in component parts, primarily for the automotive market. Our products are not confined to automotive applications, though; we also produce for the electrical, telecommunications and household appliance industries, just to name a few. We offer both deep-draw and progressive-die stamping, and are now capable of laser-weld as well.
Our abilities don't end there
Before the material enters the press, United's engineering department can coordinate with customers to design and prototype their concept, no matter what the challenges may be. Our dedicated in-house toolmakers ensure that the job runs smoothly and efficiently.
United also offers a wide array of post-manufacturing value additions such as laser welding, de-burring and cleaning. Quality inspection is also key to ensure that our parts exceed your expectations and that your standards are satisfied.
We are IATF 16949:2016 certified.
UMI will strive to meet or exceed our customer's expectations through continuous improvement of our products, processes, and performance with customer satisfaction as our ultimate goal.
-UMI Mission Statement